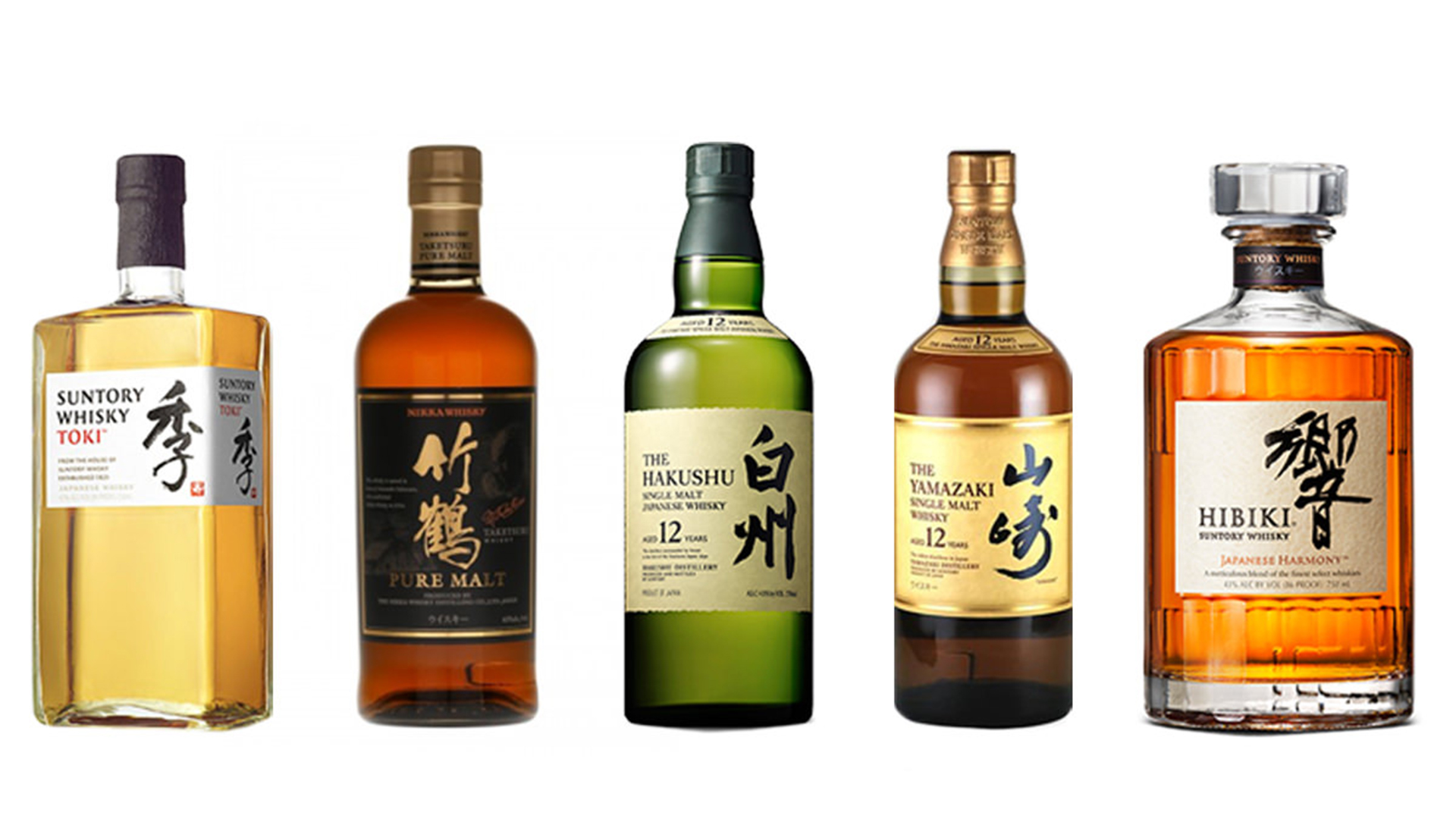 The Era of Japanese Whisky: The Newest Discovery by Whisky Connoisseurs
In our previous newsletter we had covered the origins of Japanese Whisky. In edition, we will delve into what makes Japanese whiskies different from the Scotch whiskies and some of the most awarded and notable Japanese whiskies.
Japanese have done with whiskies what they did with the automobile industry - took the model, stripped it down, worked out how to make it and rebuild it and in the process they not only matched the competition they even surpassed it. Japan's two biggest distilleries were effectively set up by a man who learnt & honed his craft in Scotland. There's no denying the Scottish influence behind the birth of Japanese whisky industry, however there are a few significant differences between the two.
Blended Whiskies:
The best blended Scotch whiskies are made up of whiskies from different distilleries in Scotland, each distillery has its own unique characteristic.However even though the blended scotch whiskies contain whiskies from different distilleries , these distilleries are usually owned by a single company - a relatively recent development. This is not possible in Japan because there are relatively fewer distilleries and also a culture that discourages intercompany cooperation. Japanese distilleries found a solution to this by producing a range of whiskies using different yeasts , different distillation and production techniques. Japan now makes some world class blends; Hibiki 21 year-old won the award for world's best blended whisky in 2010.
Low Pressure Distillation:
The different distillation techniques are also a function of local topography. Japan is home to three of the highest distilleries in the world- Hakushu, Mars Shinshu and now mothballed Karuizawa. Higher altitudes have lower boiling points hence lower pressure distillation at these distilleries. Low-pressure distillation helps keep a larger number of aromas and a thinner and lighter texture, which makes Japanese whisky taste different from Scotch.
Mizunara Oak:
During the second World War , Japan had no access to imports and the distilleries were struggling to obtain barrels from either America or Europe for maturation. This forced the distilleries to turn to home grown "mizunara". Mizunara oak was being used in Japan for expensive furniture until then. For the distillers mizunara isn't the easiest of oaks to work with because of its high moisture content and also because it is more porous than other types of oakwood. Ageing in mizunara barrels typically takes for a few months only and imparts aromas of sandalwood and coconut. Today even the Scottish and American distilleries are experimenting with mizunara oak.
Additionally, bamboo is also a feature of the Japanese distillation process: in addition to the traditional charcoal filtration method, bamboo filtration mellows the spirit significantly, and reinforces that aforementioned smoothness of texture.
Award winning Japanese whiskies:
Over the past couple of years, Japan's whiskies are ruling the global market and are as competitive as ever: at the 2018 World Whisky awards the Taketsuru 17 Year Old won Best Blended Malt, and the Ichiro's Malt & Grain Limited Edition won Best Blended Limited. This year, Fuji Single Grain 30 Year Old Small Batch won World's Best Grain, two times in a row. The Hakushu 25 Year Old won Best Single Malt back in 2018, and again in 2020. The Hibiki 21 Year Old has won the Best Blended Whisky six times in a row, till 2019.
Cultural Significance of Japanese whisky, and how it should be had
Let us introduce you to the "Highball":
Technically a highball is a mixed alcoholic drink composed of an alcoholic base spirit and a larger proportion of a non-alcoholic mixer. Examples include the Seven and Seven, Scotch and soda, and rum and Coke. A highball is typically served over ice in a large straight-sided highball glass. Initially, the most common highball was made with Scotch whisky and carbonated water,known simply as a 'Scotch and soda'.
The highball style is popular in most Japanese drinking establishments but today it has become an integral part of the Japanese drinking culture, so much so that it can even be found in vending machines in airports and hotels. In Japan, the most popular way of enjoying whisky is the Mizuwari (in Japanese means "cut with water"), which is basically whisky served with cold water, on ice, and is mostly a hit in casual atmospheres like in bars and restaurants. This is the Japanese version of the popular Highball.
The typical sweetness and lightness of Japanese whisky makes it a more versatile drink than most varieties of western scotch. This attribute makes it suitable for a range of drinking experiences, be it casual hangouts, formal events, or personal meetups. With regard to food pairings, it's typical to see the spirit served at lunch and dinner in Japan since it works especially well with the distinctive umami flavours of Asian cuisine. Each blend matches different aspects of the Japanese palate. Cocktails are also an attractive option for adventurous Japanese whisky fans: various drams can be used to put a fresh spin on classics, or provide possibilities for fresh concoctions. Check out Ginger Highball (ginger beer, blood orange, angostura bitters, soda water), and The Red Akuma (blood orange juice, agave, jalapenos) to start with.
If you're yet to experience a Japanese dram for yourself, here are a few suggestions:

Nikka Coffey Malt: From Taketsuru's company Nikka Whisky, this whisky is made from 100% malted barley and was distilled in a Coffey, or column, still rather than a pot still. With fragrant citrusy notes, the Nikka Coffey Malt is the perfect Japanese dram if you enjoy sweet whisky with strong fruity aromas.
Chita Single Grain Whisky: This is from the owners of the famous Yamazaki Distillery, and it is Suntory's first single grain whisky. This mild and smooth whisky with light notes of mint and honey is a perfect dram for summers.
Suntory Kakubin: This is probably the perfect Japanese whisky if you're into mixing your drinks. Mix it with soda water or ginger ale and lime for a delicious "Highball", or with lemon juice for a Whisky Lemonade. This light whisky tastes of honeycomb, citrus peels, peppercorn, and cinnamon.
Yamazaki 12 Years Old: is a sweet whisky, first sold in 1984, and it is one of the first single malt whiskies that was heavily marketed, and is still revered as one of their best. This zesty whisky has strong notes of tropical fruits and winter spices like ginger and cinnamon.

Hakushu 12 Years Old: A gem of whiskey with notes of subtle peat, fresh cut grass, malt and citrus fruits.
These are a few gateway, good quality, yet affordable Japanese whisky selections that a beginner can start with. However, the most important rule of finding your favourite is always - tasting.