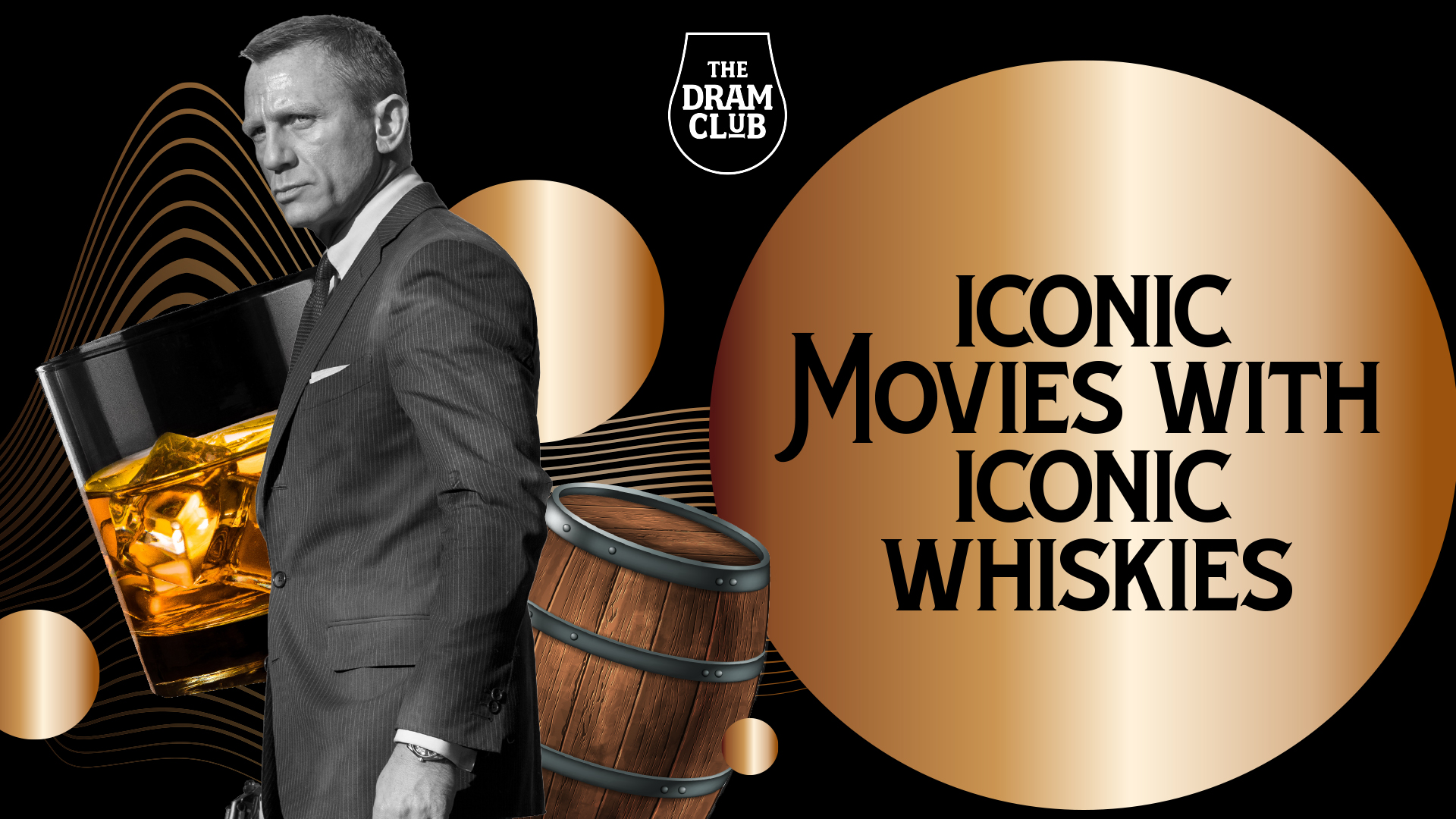 Iconic Movies with Iconic Whiskies
Alcohol, and whisky in particular, has played a  starring role in show business from the beginning of time. Be it a group of bachelors bringing on a hangover or a hero in pain downing a glass of the "aqua vitae", a walk on part by a tipple is pretty much a given.
Showcasing whiskies as a product placement has long been part of the movies and TV shows. But today, major movies spend as much on promotions as they do on production and product tie-ins or co-promotions go way beyond traditional product placements.
Jack Daniel's Tennessee whiskey is the most common whiskey brand in all media. The first known appearance of Jack Daniel's was in 1963, in the film Hud starring Paul Newman. Even as a bottle of a 50 YO Macallan makes an appearance in Skyfall, the British spy James Bond's most cited drink remains the Dry Martini (shaken not stirred). Similarly when the character of Bill Murray goes to Japan in Lost in Translation, he does so to film a commercial for Suntory. And there are so many more! 
What we would like to talk about today instead, are the whiskies that were inspired by the movies. Here are some notable mentions:
• Brown-Forman's placement of Old Forester in the Kingsman sequel was matched by a Statesman edition of the venerable bourbon, with special packaging and a unique flavour profile. While the film reviews characterised it as a "James Bond for idiots", reviews of the bourbon were far better!
• The Blade Runner 2049 turned a cameo by Johnnie Walker Black Label in the original film (1982) into a major tie-in with a release of its own special blend. Created by the film's director Denis Villeneuve and master blender Jim Beveridge, the special edition was  cheekily labelled "The Director's Cut", a nod to seven different versions of the original movie. 39,000 bottles of the limited edition whiskey were released worldwide to promote the film.
• "I love Scotch, Scotchy Scotch Scotch" famously claimed Channel 4's Ron Burgundy in Anchorman's opening scene. The tie-in whisky, "Ron Burgundy's Great Odins Raven Special Reserve", was created to promote the sequel Anchorman 2: The Legend Continues, and is a blend from Old St. Andrews using Speyside, Highland and Islay whiskies.
• John Wick had more reason to drink whisky than anyone else we can think of! The Continental, is named after the hotel in which Wick and a fellow professional killer take refuge. The whiskey is made in Kentucky, bottled at 45?V, and comes with two exclusive rocks glasses etched with the Continental logo.
• Being one of the few surviving members of the human race during the zombie apocalypse means more whiskey for you in The Walking Dead. Since the show features plenty of boozing, there have been previous liquors tied to the show, but this is the first from comic book and series executive producer Robert Kirkman. "The Walking Dead" straight bourbon is born out of a collaboration between Spirits of the Apocalypse, Diageo and Skybound Entertainment.
• Appropriately, the only Star Wars whisky in the galaxy is actually a trilogy of independent bottlings. Mark Dermul and Imanuel 'Manny' Dijk were part of a crew of eight Star Wars fans who crowdfunded a trip to Tunisia in order to restore the neglected set of the Lars Homestead, where Luke Skywalker first began his journey in 1977. To commemorate the successful restoration they bought a cask of Bruichladdich 20 YO from independent bottler A.D. Rattray and released 100 bottles of the first "Save Lars Whisky". Since then, two more single cask whiskies, a 24 YO Auchentoshan and a 14 YO Balmenach have been released by the pair.
And lastly, not a movie or TV show but a long running series of video games – Glenfarclas Final Fantasy 30th Anniversary! Final Fantasy is a series of video games spanning 30 years and 15 iterations (so far). Its creator Square Enix partnered with 'Glenfarclas' to release 303 bottles of 30 YO single refill sherry hogshead as a Japanese exclusive. The bottle was adorned with a 'Final Fantasy' themed label to commemorate the game's 30th anniversary. It might sound a little wacky for a video game to release a commemorative whisky, but in Japan, Final Fantasy is popular enough to have previously lent its name to instant noodles and Coca-Cola campaigns!