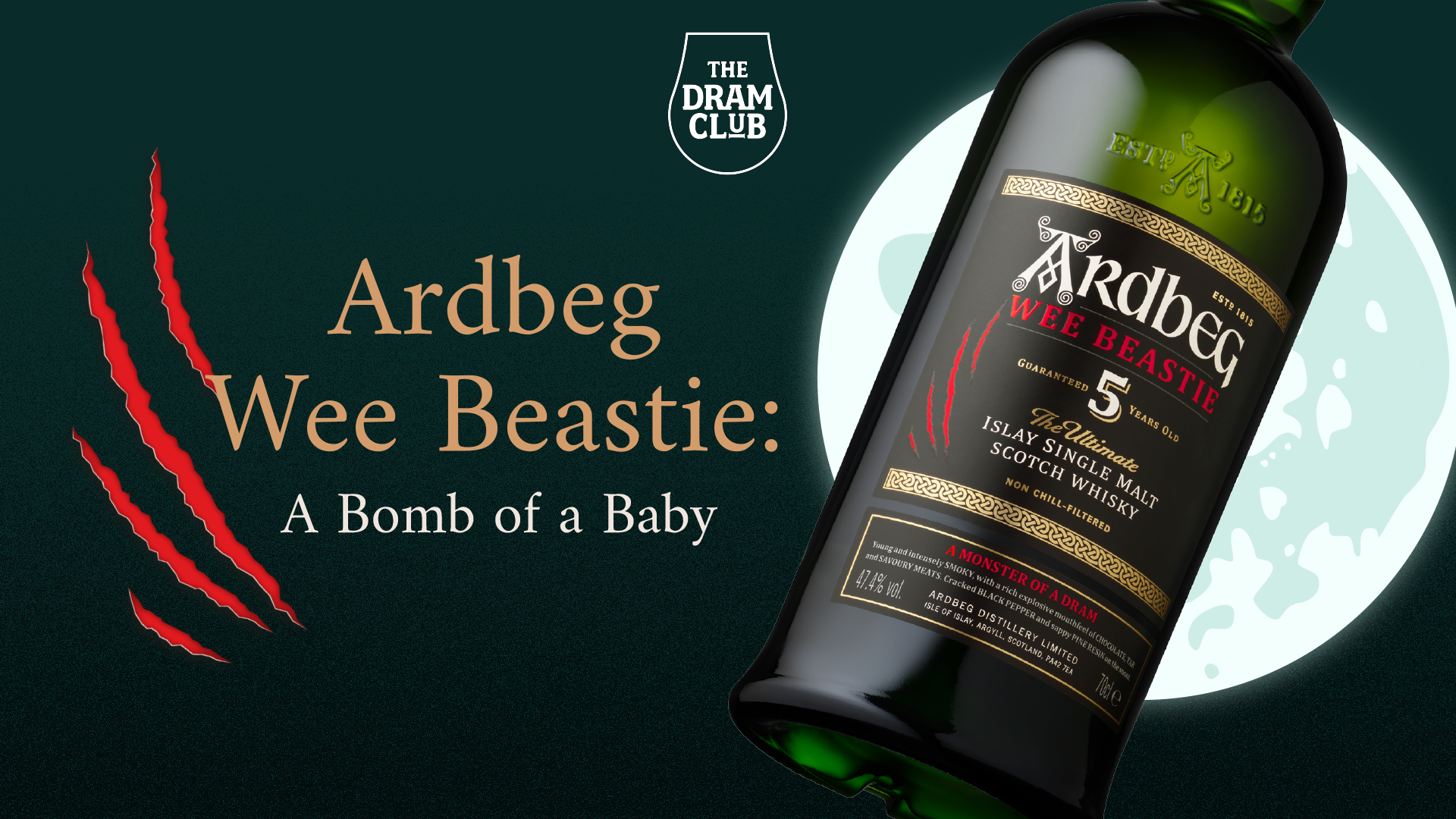 Ardbeg Wee Beastie: A Bomb of a Baby
There is a popular saying that goes "Youth is a gift of nature, but age is a work of art." If you started drinking whisky around 20 or so years ago, we have a feeling that you may firmly be in the 'older is art' camp. For a whisky to be worth anything at all, surely it should have spent at least a few decades in the barrel, right?
We respectfully disagree. (And are also sorry to inform you that you may have been the target of some pretty heavy duty whisky marketing of the 2000s.) 
Until the late 1990s the majority of whisky available were NAS and blends. Then came a period of a greatly downsized market and an excess of stock (from casks laid down prior to the industry's virtual collapse in the mid-1980s). Brands became available in 21, 25, 30 and even 40-year-old expressions and it seemed as if most distilleries had at least a 12, a 15 and an 18-year-old whisky in their portfolio. It was in their interest that "age came before beauty", so to speak.
Age is just a number
Of course there was absolutely a time when whisky had to spend a lot  of time in the barrel. With time came a greater understanding about maturation, better cask quality and an increasing amount of spirit is filled into first fill barrels. Whisky is therefore maturing faster than they it did 20 years ago.
Another realisation dawned on the distillers. The more time a whisky spends in a cask, the more it takes on the character of the barrel. How then does a distillery truly showcase its house style? The answer is younger whiskies!
If your only expectation of a young whisky is "harsh" and "too boozy", then you've been missing out on some seriously good whisky. Several well-respected names in the Scotch world have released bottles aged fewer than 10 years. And here to blow out all your misconceptions, from the house that makes the world's most highly awarded smoky single malt whisky, comes a bomb of a baby – say hello to Ardbeg Wee Beastie.
Ardbeg Wee Beastie
In 2019, Ardbeg released their 19-year-old Traigh Bhan in their permanent collection. A year later, they decided to explore the other end of the age scale and asked themselves, "How young can we go?"
The answer it would appear, is 5 years old, and the youthful, incredibly smoky, new addition to their permanent expression – Ardbeg Wee Beastie.
Matured in ex-bourbon and Oloroso sherry casks, Wee Beastie accentuates intense aromas of cracked black pepper, salty sea spray and sharp tangs of smoke. Now, finally, available in India, we're excited to test how this wildly peaty Scotch matches with the intense flavours of our favourite tandoori tikkas. So don't let a double-digit bias prevent you from enjoying a tongue-tingling new expression from the house of Ardbeg!
Tasting Notes
Nose:              Very bright, fresh and herbal, with hints of vanilla, pear, freshly cracked black pepper, honey-glazed ham. Rich Turkish coffee, sappy pine resin.
With water, more herbal top notes like vetiver and fennel, along with aniseed, green apple and leather.
Taste:              A rich, explosive mouthfeel with lots of chocolate, tar, creosote and smoked bacon, followed by a burst of antiseptic lozenges, eucalyptus and more aniseed.
Finish:             A long, salty and mouth-coating finish with hints of cocoa, fudge and savoury meats.