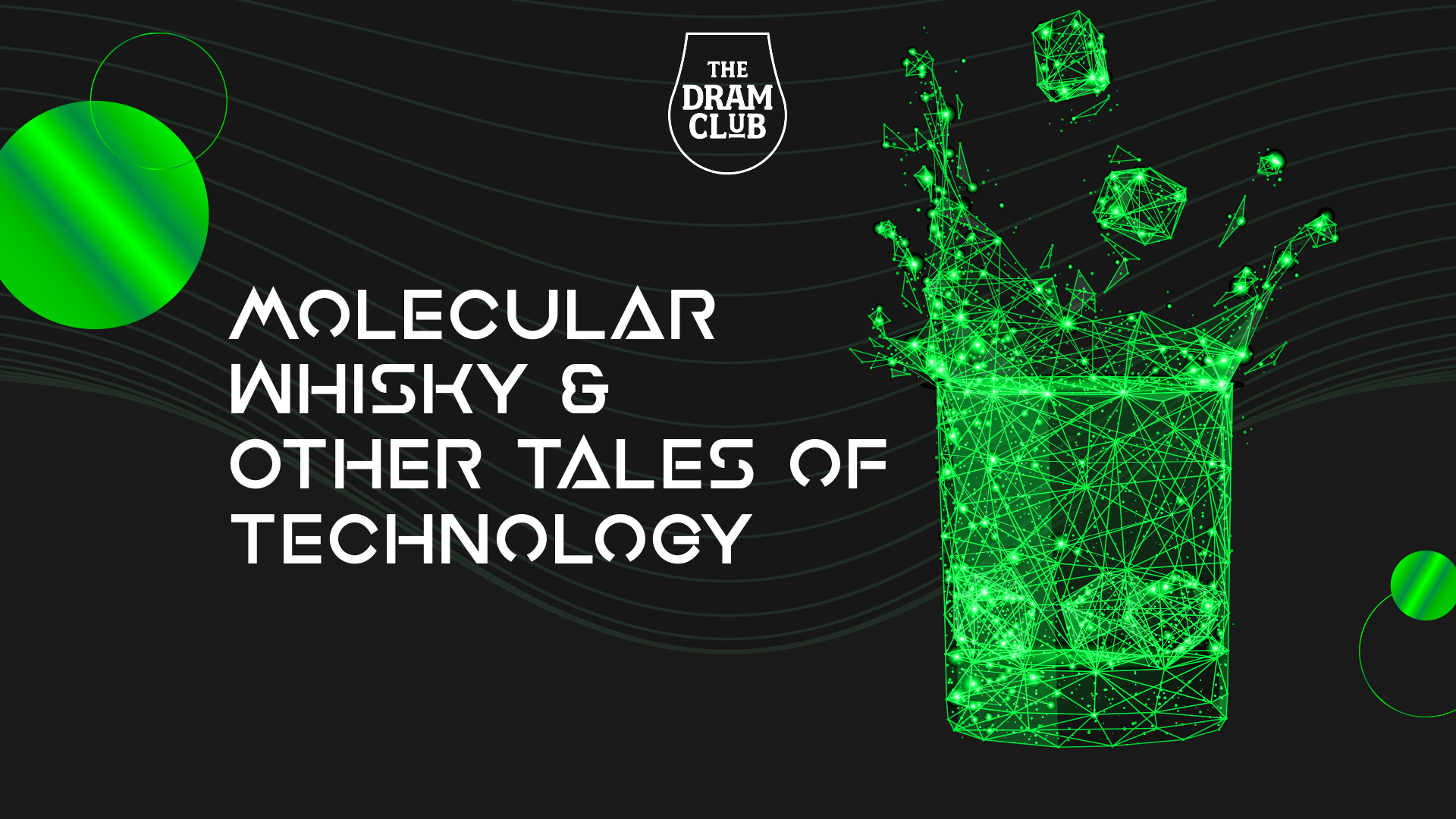 Molecular Whisky and Other Tales of Technology
It really doesn't get more traditional than the world of whisky making. Built on century-old techniques and a whole deal of romanticism surrounding the spirit, even the hint of introducing modern technology to such tradition is considered a taboo by many distillers and whiskey drinkers alike. But if every mad scientist or brave entrepreneur feared the wrath of the established, we wouldn't have had Netflix, AirBNB, Apple, Amazon or Viagra. Disruptors are essential to push the industry forward.

This week we introduce you to four fearless disruptors challenging the status quo of the whisky world, introducing unique ways with whiskies and fulfilling new needs whisky drinkers didn't realise they had, until now.
Rapidly Aged Whisky
From dosing clear alcohol with soot to make it taste "old" to heated warehouses that imitate seasons several times a year, distillers have been trying to speed up the process of ageing whisky from the moment the spirit was accidentally discovered.
Traditionally, ageing involves allowing the changing temperatures to push the spirit into and then out of the barrel's wood, lending the whisky its flavour and colour along the way. The process lasts anywhere from a few years to more than a few decades.
There is now a group of spirited entrepreneurs who believe that science can help them bypass this process. It would mean that distillers could now respond to market demand rather than attempt anticipating it decades in advance.
An LA-based distillery, Lost Spirits, is one such disrupter that believes they can put spirits through decades of ageing in just a few days. Their technology loads whisky and wood into a "reactor" which bombards the wood with fluctuating heat and intense light. This reengineers the molecular structure of the wood, helping create the complex flavours one associates with well-matured spirits.
Even as whisky traditionalists contend that spirtits like these have a long way to go before they can compete with established labels, we imagine such innovation is music to the ears of the growing tribe of drinkers who like sipping spirits but cannot afford a 21-year-old single malt.
Customising for the Consumer
An entrepreneur and a scientist met at a bar… no, this isn't the beginning of a joke, but the story behind the founders of Bespoken Spirits, another disrupter re-imagining what they call a "wasteful" barrel ageing process with sustainable science and technology. 
Their main premise is that a spirit's colour, aroma and taste could be designed and created precisely rather than waiting for nature to take its course. Bespoken pours the barrel into the spirit rather than the other way round to make whiskey in just a few days. They claim to have 17 billion possible combinations of style and flavour to work with and extract the key elements of a barrel with a process that is 97% less wood consumption and 20% more spirit yield (no angels share).
Bespoken also provide maturation and customisation services to distillers and retailers who may want to develop and introduce new products quickly, reducing the financial uncertainty of investing in a product that may not be ready for years to come.
Block Chain Technology
A new whisky was released in 2019 using blockchain technology to ensure certified authenticity and increased transparency in the whisky production and distribution processes.
William Grant & Sons, who own Glenfiddich and Balvenie among others, teamed up with technology company, arc-net, to release a new expression of Ailsa Bay using blockchain technology to prevent counterfeiting.
The technology uses ledgers that allow customers to track every single bottle from 'source to store'. Blockchain is a series of registers (blocks) that hold information about a previous block and the transaction data between the two blocks. All possible information about the whisky – how it was produced, type of cask, filling and bottling dates and more – is shared with a consumer through a simple scan of a QR code. Surely this is every whisky geek's dream come true?
Molecular Whisky
"All of the spirit. None of the rules." is the maxim that underlines the molecular creations at Endless West, a California-based team of "scientists, sommeliers, writers, chefs and grad school dropouts" that tasked themselves with creating the next generation of wines and spirits. Not unlike Lost Spirits and Bespoken Spirits, they too want to reimagine old processes of ageing whiskey and thus launched Glyph Molecular Whiskey.
This lab experiment first breaks down the thousands of molecules that contribute to a whisky's flavour, aroma and mouthfeel during the distillation and barrel ageing processes. Then they source these molecules from natural sources such as esters in fruit, sugars in cane and corn and acids found in citrus and wood. Finally, they blend their ingredients together in small batches and in less than 24 hours produce hand-bottled cases of Glyph, which is available in three expressions – Original, Spice and Royal.  
Endless West have even claimed that their lab-created bottle bested the 20-year Pappy Van Winkle in a blind taste test! Given the limited appeal that molecular gastronomy enjoyed but a few years ago, we wonder, will molecular whisky suffer the same fate?
Whether or not the purists agree with the infiltration of new technologies into their world, there's no denying the fact that they are being welcomed by more than a few.
For one, emerging technology is offering the possibility of some pretty good whiskey at affordable prices, and we don't know a single consumer who will say no to that.
Each year, nearly 20 million gallons of whisky is lost to evaporation during barrel aging – technology may actually help large distilleries and brands rationalise their investments in expensive barrel rooms and millions of dollars' worth of stocks. And finally, as the industry sees a double-digit growth in whisky consumers, especially in markets like India, it's no surprise that tech companies are jumping at the chance to create cost effective spirits that will reach the consumers much faster than whiskies from a traditional distillery.