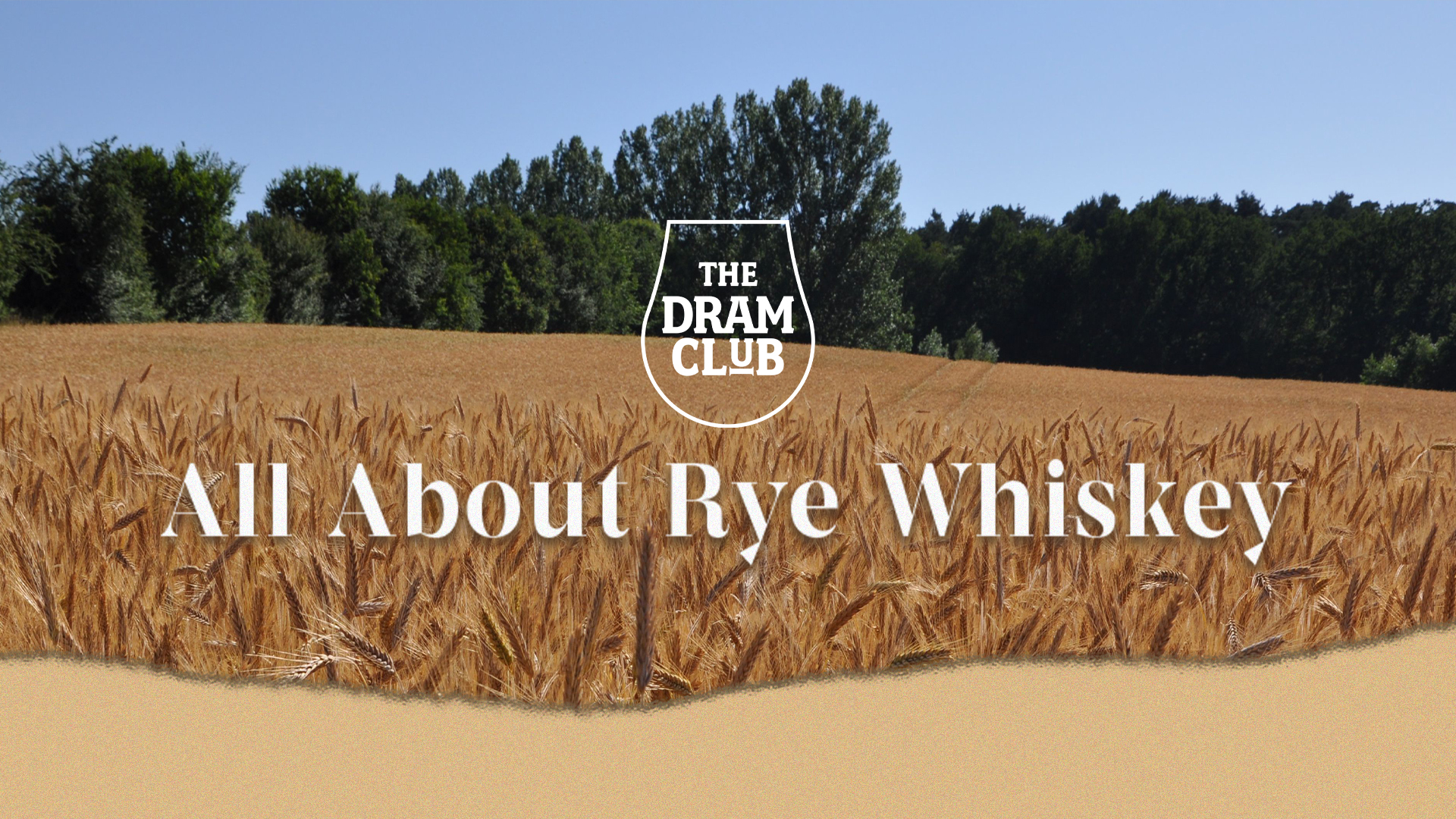 All About Rye whiskey
All About Rye Whiskey
This week we continue our exploration of the American whiskeys. The next stop is Mount Vernon, Virginia the early home to the spicy and bold spirit - rye whiskey. An American whiskey, which, without question is synonymous with cocktails. From Manhattan the Old-Fashioned to the Sazerac –all the classic mixes were based around this American spirit. However, Prohibition rang the death knell for this rustic spirit that saw near extinction until curious circumstances announced its revival in the mid-2000s. Let's see what happened…
The Birth of Rye Whiskey
By the late 1700's, there were literally thousands of small grain distilleries each in New York,
Pennsylvania, Virginia, and Maryland. Some reports suggest there were between 14,000
and 20,000 distilleries operating in the US between 1810 and 1840.
Rye was the most prevalent grain in colonial America, much easier to grow and also more hardy than barley. It became the natural choice of crop for farmers. They also quickly converted their farm equipment into a distillery and those who were making bread also started making a ton of whiskey. After all, selling whiskey was far more profitable than lugging excess grain to the market!
Rye whiskey must have a mash content of at least 51% rye (which means it can't be called bourbon) and is also made with corn, malted barley and wheat. It has to be distilled to no more than 80?V and can only be filled into barrels at no higher than 62.5?V. In order to be called a 'straight rye' it must be aged for a minimum of two years in new charred oak barrels and not blended with any other spirits.
The Founding Father & The Fall of Rye
A long, long, time ago (1797 to be exact), US President George Washington distilled some pretty neat rye whiskey at his estate at Mount Vernon. Originally planted as a cover crop, rye wasn't anywhere on a list of delicious grains that could be turned into a delicious spirit. But Washington was a man of innovation, who rarely let an opportunity slip by. On the advice of his plantation manager and some local spirit merchants, he began to make a whiskey from 60% rye, 35% corn and 5% malted barley. He spent his post-presidency years presiding over a booming alcohol business.
Rye's popularity was strongly aided by the godfather of bartending Jerry Thomas, who used the spirit in several of his drinks in the 1800s.
And then Prohibition (1920-1933) hit and the farmers stopped all whiskey production. Even
though rye whiskey pre-dates bourbon by almost 200 years, this most American of spirits
continued to be seen as a dusty antique for several decades even after Prohibition ended. A majority of the independent rye whiskey brands either died off completely or were bought up by the larger bourbon distilleries. Additionally, the first farm subsidy bill supported corn but not rye and it became cheaper to make bourbon than it was to make rye.
"By 2001, rye was on life support," said Dave Pickerell, former master distiller at Maker's Mark and now head distiller at WhistlePig.

The Return of Rye
Things began to change in the mid-2000s. Curiously, the cocktail culture began to emerge in the US bars around this time. Craft bartenders began researching classic drinks and discovered that several of them – from books like The Bar-Tender's Guide by Jerry Thomas and The Savoy Cocktail Book by Harry Craddock – used rye whiskey. They began reviving old drinks and fell in love with rye's history and its high proof and spicy qualities that could stand up to big vermouths and other powerful ingredients.
Another trend that influenced the resurgence of rye was the American consumer's inclination to drink less, but drink better.
Largely due to these influences, rye whiskey category grew by a surprising 20 percent in 2006 and by 30 percent in 2007 and 600 percent between the years 2009 and 2015. Whoa!
Types of Rye Whiskey
Rye whiskey boasts of wonderful high notes and spice because of the prolific use of virgin
oak in the maturation. It is a spicy, grainy, hard-edged version of bourbon.
There are two contrasting styles of rye whiskey:
Maryland-style rye which contains less rye in the mash and more of other grains, such as corn, so a bit closer to bourbon.
Monongahela (or Pennsylvania) rye which is high in rye, bracing and zippy.
Best Rye Whiskey Available in India
Sazerac Rye
In the 1800s, saloons disguises as coffee houses used to serve their patrons concoctions made with rye whiskey and bitters. It was at the Sazerac Coffee House on Royal Street in New Orleans that this drink came to be known as the "Sazerac" and America's first branded cocktail was born. Sazerac Rye is the whiskey that started it all.
Nose: Cloves, raisins, vanilla, pepper, citrus
Palate: Rich, nutty, white peppers, toffee, apricots, orange marmalade, raisins
Finish: Exceptionally long and spicy
Templeton Rye 6 YO
This 6 year-old whiskey was released in June 2016. Templeton Rye is a brand that was introduced in 2006. This is its Signature Reserve rye whiskey, made with a mash bill of 95% rye and 5% malted barley.
Nose: Caramel, vanilla, coconut, oak and ginger cookie
Palate: Vanilla, green apple, baking spices, honey, menthol
Finish: Medium – spicy & herbal.
In these times when strong flavours are back in style, rye whiskey is certainly enjoying a new golden age. We for one love its complex, intense flavours and enjoy it in both cocktails and straight up.