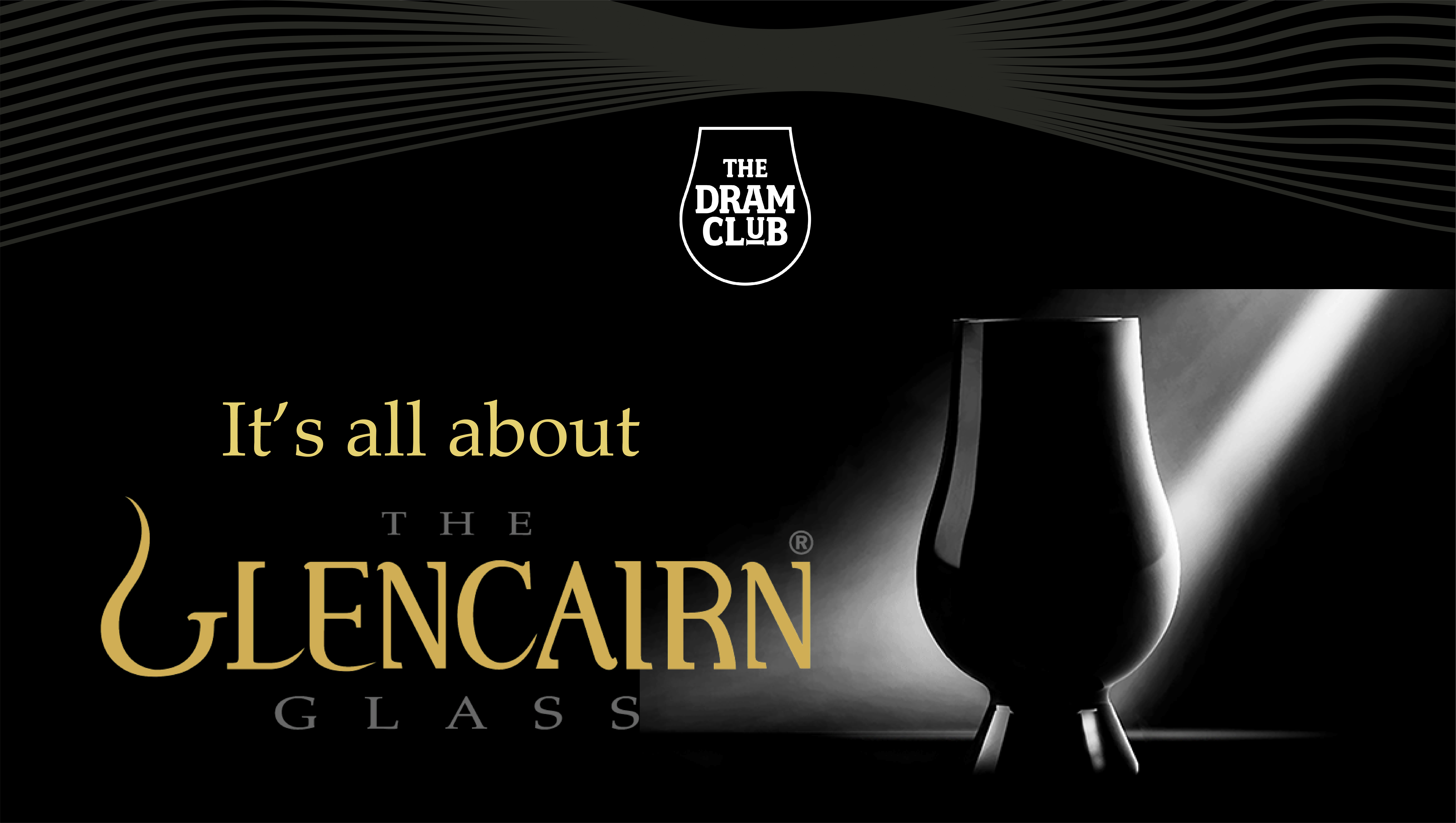 Its All About the Glencairn Glass
Does it really matter which glass you drink your dram from? If you ask a true blue whisky enthusiast the answer will be a resounding yes!
 The sensory journey of tasting your whisky begins a lot earlier than the moment you first sip your drink. It begins with the hue of the spirit, then its nose and all those beautiful aromas, how you feel as you hold a glass of your favourite whisky, and then the experience of taste. The whisky glass you choose impacts every single one of these elements. And even as there are a range of glasses to choose from – tumbler, snifter, tulip – there is nothing quite like a taste of your drink from the Glencairn Glass.
 The Story of the Glass
Many may find it surprising, that for a spirit so steeped in tradition, it didn't have a glass to call its own until quite recently. Champagne, sherry, brandy… and even beer, all enjoy the ceremony of being enjoyed in very specific glassware. But the long and illustrious history of whisky did not include its own receptacle, until a gentleman named Raymond Davidson decided to take matters in his own hands.
 The founder of Glencairn Crystal, a Scottish maker of glasses, took it upon himself to create the perfect glass dedicated to whisky. This story begins in the 1980s when Davidson created several prototypes of a glass that would allow the drinker to truly appreciate the nose and palate of a whisky, while at the same time look elegant and be sturdy enough to be used in busy bars and distilleries. 
 Nearly a decade after these early designs, Davidson's son, Scott, chanced upon the prototype and gave the idea a new life.
 A Historic Collaboration
The Davidsons sent the prototypes to some of the biggest names in whisky for their feedback and advice – Robert Mcelroy from Diageo, David Stewart from William Grant & Sons, Robert Hicks from Allied Distillers, Richard Paterson from Whyte and Mackay and John Ramsay from The Edgrington Group. They were excited and full of suggestions!
 The final design – a stemless glass inspired by a copita – was finally released 20 years ago as the Glencairn Glass.
 The Glencairn Glass
Made with high quality crystal, the Glencairn Glass is designed as a tulip-shaped bowl that lets the spirit breathe, with a narrow mouth to direct all the dram's aromas right up your nose. Now hailed as "the official whisky glass," it is the most popular choice of whisky glassware amongst whisky consumers, distillers and bartenders alike.
 Its most striking features are:
 A beautiful design that is elegant and functional.
A size that is is perfected for a 35 ml pour and a splash of water – enough room to allow the aromas to develop.
A tapered mouth that allows easy drinking whilst capturing all the aromas.
A wide bowl to appreciate the dram's colour.
A short solid base that feels good in the hand
20th Anniversary Special Edition
The Glencairn Glass may have taken a few hundred years to arrive but it is certainly here to stay! Not only has it been adopted and endorsed by firms such as The Scotch Whisky Association (a trade body that represents 95% of all Scotch production); but the Glencairn Glass is also the glass of choice at the Scotch Whisky Experience which welcomes nearly 4,00,000 visitors each year.
 Today over 3 million Glencairn Glasses are sold each year. Over the years Glencairn Crystal have released several new finishes of the original glass, including a limited edition black Glencairn Glass which reportedly sold out almost immediately.
 To celebrate its 20th anniversary Glencairn Crystal released a set of coloured glasses that are "here to stay". Blind tasting drams are promising to be a far more colourful experience thanks to these funky new additions.
 Ask any whisky drinker and there are few things comparable to the enjoyment of a good dram. And the Glencairn Glass is now part of this 'ritual' that makes the experience even more special. 
Slàinte mhath!