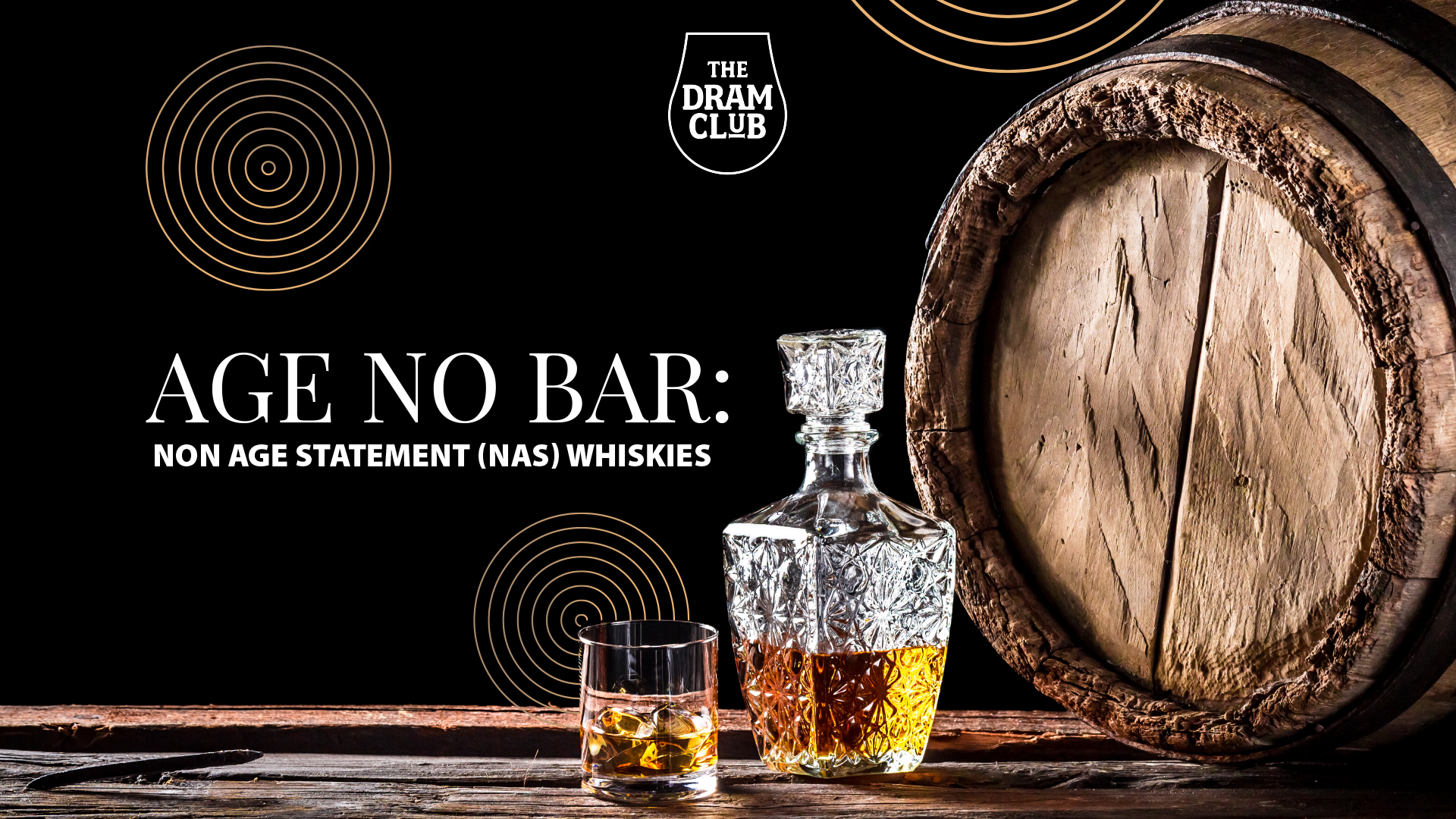 Age No Bar: Non-Age Statement (NAS) Whiskies
Whisky distilleries from around the world have spent a fair bit of time and money telling us that age matters. Over the years, the age statement of a whisky became its quality marker of sorts and one cannot be blamed for trusting that age = quality = expense.
So when some of the biggest names in the business – Talisker, Glenfiddich, Singleton, Macallan – began to release whiskies without an age statement, it was bound to create a kerfuffle in the whisky world.
Most people think they know the basic rules – the older, the more expensive. Fine, but is older always better? Take the multi-award-winning Glenfarclas distillery for instance. They offer 8 aged whiskies and more often than not experts agree that their 18 YO (now discontinued) was certainly not worth its price. The younger 15 YO found more favour and their no age statement (NAS) whisky, 105, even more so.
What does all this mean when you go whisky shopping?
Is age just a number?
One of the things that makes whisky a whisky is being aged in wooden barrels. Now this could be for a few seconds (to qualify as an American whiskey, for example) or for many years (a minimum of 3 to qualify as a Scotch). Other styles like bourbon, Irish and Japanese all have their own rules.
When you see an age statement on a whisky label what that means is that the age mentioned is a reflection of the youngest ingredient in the final bottle. So a 12 YO Macallan may also contain an 18 YO in the bottle.
Not having an age statement on a bottle of whisky isn't exactly new. Once upon a time, at the very beginning of Scotch whisky, the farm distilleries released their spirit without displaying an age for their whisky.
Why do distillers make NAS whisky?
In the past two decades, the explosion of interest in whisky has meant that distilleries are running out of stocks of their "quality whiskies" (aka aged whiskies). Supply has struggled to keep up with demand and long aging times have become a luxury. Enter NAS whiskies.
NAS simply means that there is no age listed on the bottle itself. A bottle of NAS whisky most likely contains a blend of several different whiskys of different ages. So contrary to urban legend, NAS does not always mean young. One of the most famous examples of a NAS Scotch is Johnnie Walker that distinguish most of their expressions by colour – Red, Black, Gold, Blue – and not by age.
The distillers can't quite go back in time to make more aged whisky. And so, while we wait for barrels of maturing spirit, NAS whiskies allow the distillers to experiment and keep up with demand more easily. They have plenty flexibility in the kind of whisky they want to produce, because they aren't limited by the age of the ingredients. And the increase in popularity of NAS whiskies has given master blenders more liberty to innovate.
Not to take away from the character that ageing in wood barrels imparts to a whisky, but a fair number of new producers are creating really interesting NAS products by selecting better grains, recalibrating mash bills and examining their aging process to maximise time. Making NAS whisky may no longer be just about managing their stocks better. 
'Age is just a number! There's a lot more to the flavour and character of a whisky than just years in the cask. Lack of age does not impact the quality of a whisky, in fact, as a blender, I can achieve consistency and quality only by choosing whiskies from different age groups and not by vatting similar type of whiskies.
For us NAS means innovative and unique, and currently NAS whiskies are carving a niche in the market.'
- Michael Dsouza, Master Distiller
Paul John Whisky.
5 NAS whiskies to buy in India
Are distiller's having their cake and eating it too? Perhaps. In a few years, when they have aged stocks again they may begin to sing a different tune. But until then, real whisky lovers should see this trend as an opportunity to break away from traditional constraints of age being the only indicator of quality. And here in India, we can start with these five delicious NAS whiskies:
Bruichladdich The Classic Laddie: An outstanding expression from a distillery at the forefront of transparency in the whisky industry, The Classic Laddie is an effervescent whisky with floral, citrus, honeyed and nutty notes. And even though its from Islay, its not a peated whisky.
Glenfiddich Project XX: Part of Glenfiddich's experimental series, the whisky is marriage of 20 different casks selected by the distillery's 20 brand ambassadors. With notes of cinnamon, cloves, orange zest and chocolate, this dram pairs beautifully with a dark chocolate.
Glenlivet Nadurra Peated: How do you make a peated whisky without using peat during kilning, well finish/mature the whisky in casks that previously held heavily peated whiskies. This expression adds a smoky twist to the smooth and fruity style that the distillery is renowned for.
Chivas Ultis: A blend of five different single malts from five Speyside distilleries - Allt-á-Bhainne, Braeval, Longmorn, Strathisla and Tormore- Chivas Ultis is one exceptionally nuanced dram. A rich & creamy mouthfeel is accompanied by notes of baking spices, poached pears and apple crumble.
Blue Label Ghost & Rare Brora: This blended whisky will hit most single malts out of the park. The first release in Johnnie Walker's Ghost & Rare series has Brora at its core, a legendary distillery with an unmatched fan following. A limited release, the whisky will leave you spellbound – from the gorgeous packaging to the exceptional liquid.