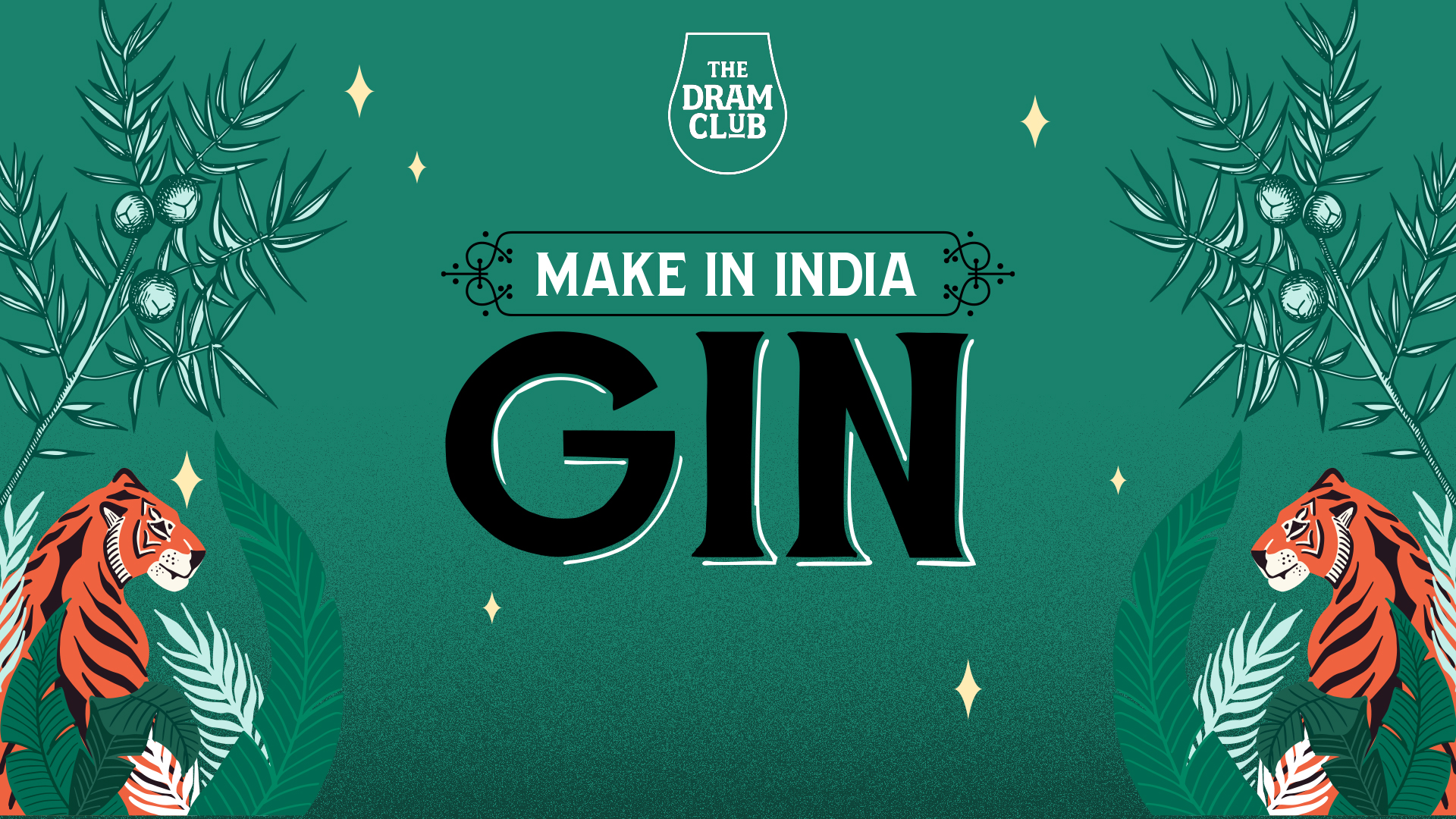 Make in India Gin
It was the 1100's and the process of distillation had only just been invented. This process was then used by Monks in Salerno to create alcohol for preservation of their medicinal plants, including juniper… and the rest, as they say, is history.
Here is a very quick look at how a drink once called 'mother's ruin' in 1700s London, came to be the spirit du jour in India.
The original avatar of gin was distilled from malt wine in the Netherlands during the 13th Century and was known as "genever". It was softened with herbs and sold in pharmacies for medicinal and other uses. One of those uses was to calm one's nerves in the period preceding the 80years war!!
This is how gin, shortened from genever, first found favour with the English.
Local distillers then began to make their own versions and it soon came to be the drink of choice of the British. Over the centuries it saw many threats - from the morality police to taxes to other spirits – and the gin craze had all but died by the turn of the 19th century.
In 1999, William Grant & Sons decided to experiment with a small batch of a bespoke spirit. The spirit was Hendrick's Gin and history was about to be rewritten. I
It went on to win several prestigious awards and thus encouraged other small batch distillers to get back in the game. Gin's popularity soared and was further encouraged by the resurgence of cocktails in the 2010s.
Touch Down India
"At an international trends level, it was definitely bartenders who were driving this 'resurgence of gin' that eventually made its way to India," - Karina Aggarwal, Founder of Gigglewater Beverage Concepts. International travellers soon brought their cocktail experiences back home leading to emergence of gin and gin-based cocktails in India.
We are no strangers to this spirit though. Legend has it that the Gin & Tonic was born in India in the late 1850s. For a country with such an ancient history with gin, the gin scene was practically non-existent until recently.
in barely five years, India's gin scene went from zero to ten (and counting) locally made spirits, spearheaded by young Indian entrepreneurs ditching "proper" jobs to make gin instead.
While Indian wines had their own aha moment last decade, winemaking is an expensive proposition. And even as Indian craft beers are well and truly coming into their own, it has certainly become a crowded space. Making indigenous spirits has emerged as an easier option (especially in license-friendly states like Goa), and let's be honest, a lot more fun to play around with!
What is Craft Gin?
Not quite the artsy class in school anymore, the word 'craft' when associated with booze takes on new meaning. Traditionally speaking, a craft spirit is one created with heart and passion, by a small team of people dedicated to the individuality of their product; dedicated to a spirit that may get diluted when mass produced (pardon the puns).
Craft distillers pride themselves on years of dedication to learning techniques and experimenting with flavours and, more often than not, will pooh-pooh companies that buy i readymade spirits. The term small batch is also synonymous with craft.
So, can we really call any Indian gin a craft spirit?
Let us set that aside for now, and instead applaud them for creating gins bursting with personality. From Kashmiri lavender and Uttarakhand's dried mango to Himalayan juniper and turmeric from Tamil Nadu - our gin crusaders have certainly made the most of distilling their spirit in one of the botanical capitals of the world.
5 Indian Gins to Drink Today
Unless you have been living under a rock, you would have at least heard some of these homegrown names before. We suggest you dedicate this month to Indian gins and give these a try.
Greater Than
India's very first homegrown gin, Greater Than is a London Dry style gin made in Goa with robust notes of juniper leading into coriander, fennel, chamomile, ginger and lemongrass botanicals. A citrus-forward gin that is as perfect in cocktails as it is in a crisp G&T.
Pumori
Another gin from India's sunshine state, Pumori is a small-batch gin with Himalayan juniper and 12 botanicals giving it a spicy and slightly sweet taste of aniseed and vanilla. "It is meant to be an easy drinking gin that does well with a neutral tonic, water or better yet, just on some ice," says Aman Thadani of Fullarton Distilleries. He loves it best in a Negroni.
Sa?s?ra
Distilled in the classic London Dry method using 11 botanicals, Sa?s?ra is a beautifully floral gin with the generous influence of Indian blood oranges, cassia bark and rose petals. The founder has aspirations of transforming his distillery into a collaborative space for gin enthusiasts to experiment with custom-made gins and innovate with botanicals.
Stranger & Sons
Perhaps the most social media friendly brand amongst this crew, the team behind Stranger & Sons have wasted no opportunity to get on trend with collaborations (eg. Perry Road Peru with The Bombay Canteen) and strong brand ambassadors such as Priyanka Blah, Academy Chair for Asia's 50 Best Bar who shares, "Stranger & Sons will always hold a special place for opening a whole new world to gin lovers and makers in India. Stranger & Sons in one of their splendid gimlets would be my go-to choice."
Terai
Brand Ambassador Karina Aggarwal shares, "This London Dry style gin ties back to the foothills of the Himalayas from where it gets its name, in having distinctive lush, green herbaceous notes from the basil and fennel, supported by the citrus notes from lime peels, orange peels and coriander." Terai is one gin that is truly small batch, grain-to-glass and resonates the spirit of India with every delicious sip.