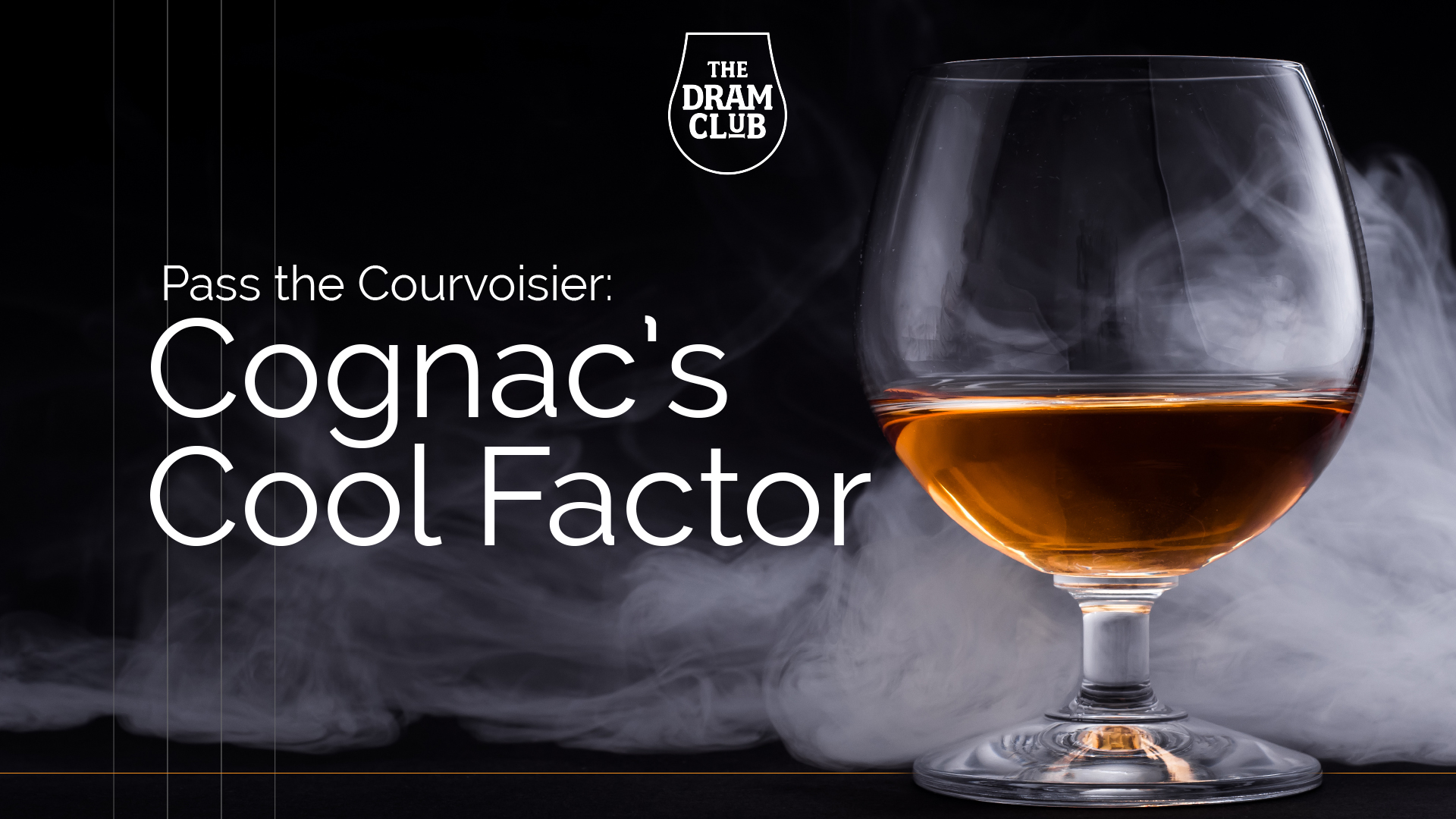 Pass the Courvoisier: Cognac's Cool Factor
Few spirits inspire a feeling of luxury like a good cognac. Gone are the days when its only association was as an after-dinner drink of choice for cigar-puffing gents. Today it's an opulent accessory for famous hip hop stars; a muse for writers such as Victor Hugo; and the star of Busta Rhymes and P. Diddy's hit song, "Pass the Courvoisier".
Since it was first created in the 16th century, cognac has gained something of a global following, and sells almost 20 million cases.
Some of the largest brands producing cognac formed quite early with Martell, the oldest continuously operating brand, dating back to 1715, Hennessy to 1765, and Remy Martin has a history going back to 1724. Today Hennessy is probably the largest distiller of the spirit, accounting for 46% of Cognac production in the world.
Are Brandy and Cognac the Same?
Short answer: sort of
Long answer: not really
Similar to how all Champagne is sparkling wine but all sparkling wine cannot be called Champagne, while all cognac is a brandy, all brandy cannot be called cognac.
Brandy is made all over the world, but only brandy made in the Cognac region of France and under the strictest guidelines, can be called 'cognac'. As per French law, the name cognac is only limited to brandy made from specific white wine grape varietals grown in one of the six crus surrounding the town of Cognac in the Charente and Charente-Maritime regions of France. The white wine used to make cognac must be made from at least 90% Ugni Blanc, Folle Blanche or Colombard grapes; and the rest from Folignan, Jurançon blanc, Meslier St-François, Sélect, Montils or Sémillon grapes.
This dry, acidic wine is double distilled in traditionally-shaped copper stills. The resulting eau-de-vie (literally, 'water of life') is then aged for at least two years in Limousin or Troncais French oak barrels before it can be called 'cognac' and sold to the public. Cognac must be at least 40% alcohol and not unlike whisky, the age of the cognac is calculated as that of the youngest eau de vie used in the blend.
Reading the Label
In 1946, France created the Bureau National Interprofessionnel du Cognac (BNIC) to uphold the quality of the spirit. The BNIC labels the official quality grades of cognac as:
VS or 'Very Special': only eaux-de-vie at least two years old can be used to make a VS cognac.
VSOP or "Very Superior Old Pale": created from eaux-de-vie aged for at least four years, this category includes designations such as 'Old' and 'Reserve'.
XO or "Extra Old": made only from eaux-de-vie at least six years old. Cognacs such as "Napoleon" or "Old Reserve" are equivalent to XO cognac.
Hors d'âge, literally meaning 'beyond age', is a designation used by producers to market a high-quality product beyond the official age scale.
Curiosities of Cognac
·       The word 'cognac' originated in the 1590s as 'Conniacke wine' or wine that is produced in Cognac.
·       By the 1680s brandy of a superior quality that had been distilled from wines in the cognac region were known as cognac brandy and by 1755 this was known only as cognac.
·       Cognac originated around the 16th century when Dutch settlers travelled to France to purchase salt, wood and wine. The journey back home made preserving the wine difficult, so the ingenious Dutch traders began distilling, and then double distilling, the wine into eau-de-vie for the transit. When they got home, they simply re-added water and voila! It was ready to drink.
·       This is essentially the birth of brandy. In fact, the word "brandy" comes from the Dutch word "brandewijn" which means burnt wine.
·       By the end of1800s Cognac exports had also made their sea journey to Bombay.
·       By law, eaux-de-vie distillation for Cognac must end by midnight on 31st March.
·       The ageing process of brandy in the barrels develops the hallowed phenomenon called 'Rancio' - the tasting note that is bit rare to find.
·       There are over 1,000 occurrences of Hennessy, Cognac etc in the world of hip-hop tunes and at least 6 collaborations with Hennessy by various rappers.
·       In the 1950s, Hennessy famously ran ads in the leading African-American lifestyle magazine, Ebony. To date, many credit the ad campaign as the beginning of black culture's affinity for the brand.
Some brilliant cognacs / brandies available in India are:
1.     Hennessy Paradis Imperial Cognac: Probably the finest Cognac available in India, it oozes prestige and luxury. The cognac has exceptional complexity and flavour profile with notes of honey, apricots, peaches, hazelnuts and a whiff of smoke.
2.     Remy Martin XO: A blend of up to 400 different eaux-de-vie, it makes for a smooth and rich drink with a delightful flavour profile with notes of raisins, dried fruits, citrus, vanilla and cinnamon.
3.     Paul John XO Brandy: And we were in for a sensory treat -
Nose: Raisins, honey, apricot, vanilla and ripe berries.
Palate: Honey and caramel, fresh fig compote, nuts, hint of chocolate and strawberry.
Finish: Medium with notes of honey and oak.


Cheers!